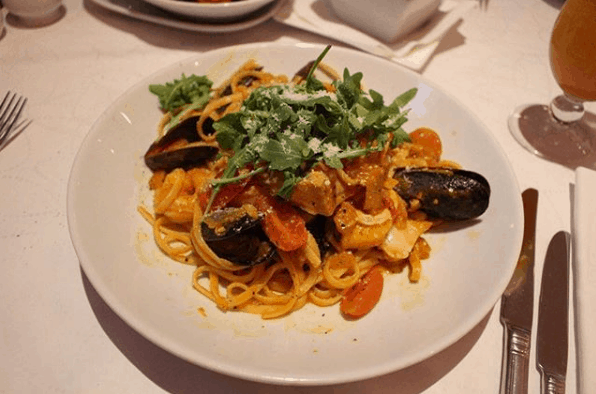 25 Jan

Giovanni's Dish Of The Day: Linguine Pescarese

At Giovanni's we have many popular dishes available every day for our customers to come and enjoy, but some shine through to be consistently popular. One of these dishes, which has become a staple dish for some of our regular customers is the Linguine Pescarese.
What are the origins of our Linguine Pescarese?
Linguine originates from Genoa and the Liguria region of Italy and is popularly paired with seafood or pesto, contrary to the traditional accompaniments of tomato and meat pasta dishes. Although it's difficult to precisely know where seafood pasta originated, the dish is believed to be a core staple in Neapolitan cuisine, which doesn't come as too big a surprise considering Naples is on the sea.
Why is the Linguine Pescarese a popular dish?
Pasta tends to be a standard Italian dish, something many people enjoy frequently, however, turning it up a little by adding an elegant touch – such as seafood – really takes the classic staple dish to a whole new level! Our Linguine Pescarese is filled with calamari, shrimp and scallops in a spicy tomato and garlic sauce, giving your regular pasta dish a refined edge and an amazing flavour!
However, seafood linguine can contain any seafood that your heart desires, it really is an incredibly customisable dish! Many restaurants serve it with their own special twist, and at Giovanni's we believe our high-quality, fresh seafood, al dente pasta, paired with the spicy tomato and garlic sauce, really brings the dish to life, which is why it has become a popular favourite among our customers.
Due to the versatility of seafood linguine, this makes it the ideal dish for any occasion, whether that be a fancy celebratory meal or just some comfort food when the weather is pulling you down. Because we've created our Linguine Pescarese with a little kick to the sauce, it's definitely the sort of dish that warms you up when it's cold and grey outside.
Book a table with us now to try our dish of the day!
If this blog post has got your taste-buds tingling for some of our delicious Linguine Pescarese or any of our other pasta and seafood dishes then book in with us today! Our restaurant provides a relaxing break from the working week, or even the ideal spot to indulge with family and friends at the weekend. Check out our full menu online or come and visit!
You can find us at 125A King Street, Knutsford, WA16 6EH or get in touch, you can call us on 01565 632 576 – we look forward to seeing you soon!