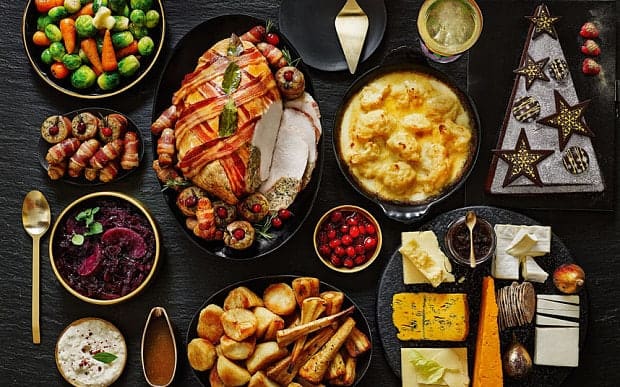 04 Oct

Book Now For Christmas At Giovanni's

Although it may only be the beginning of October, now is the perfect time to book in at Giovanni's for your delicious Christmas day meal! Our new Christmas menu has just gone live on the site so make sure to check it out and make a reservation.
What's So Special About Christmas At Giovanni's?
In joining us for Christmas dinner at Giovanni's, you'll be in for a magical day filled with delicious food and surrounded by breath-taking decorations and Christmas spirit. Staying home and cooking for the whole family could be too time consuming or tiring to spend your Christmas doing. This is why Giovanni's is the perfect solution! Our dedicated team of chefs and waiting on staff will be on hand to provide you with the best Christmas experience possible.
What's On The Menu? 
We have three new menus for the Christmas period which have just been uploaded to our website as an easily downloadable PDF. The first of the menus is our December set menu which is £19 per person.
The December set menu includes four incredible starters to choose from, such as, Funghi Involtini, which consists of breaded mushrooms stuffed with Parma ham, dolce latté and cheese on a rocket salad. There are then five delicious main courses to choose from which range from tradition Christmas dishes such as the Tachino Arrosto Campagnola, this dish is roast turkey with a chestnut stuffing and a chipolata sausage wrapped in pancetta to more commonly enjoyed dishes like our crab and lobster stuffed ravioli. To finish this delightful meal there is a choice of hot chocolate fudge cake or New York cheesecake!
Our Christmas Day menu features five starters including minestrone soup and chicken liver paté flavoured with cognac. The main courses of course include the traditional Christmas Day meal of turkey with a chestnut stuffing served with seasonal vegetables and a chipolata sausage wrapped in pancetta. To top off the menu desserts include tiramisu, cheesecake and stracciatella ice cream. Champagne sorbet is served between the starter and main course.
Our New Year's Eve menu has a wide range of starters including fresh button mushrooms baked in garlic butter and onion soup gratin with pouched egg crouton and cheese. The main courses include sautéed beef fillet with chicken liver served with Madeira sauce and asparagus tips on top and grilled skewered fresh scampi with mint. All of the main courses are served with potatoes and fresh vegetables. The desserts offered on our New Year's Eve menu include a choice of sweets or a cheeseboard.
Visit Giovanni's In Knutsford
If you just can't wait until December to try some of our delicious dishes, then why not pop into Giovanni's in Knutsford now? Our A La Carte menu has a wide range of incredible authentic Italian dishes. We also have an early bird menu and a different lunch menu each day, so there will always be something new and exciting to try!
Come and visit us at 125A King Street, Knutsford, WA16 6EH or make a reservation, call 01565 632 576.